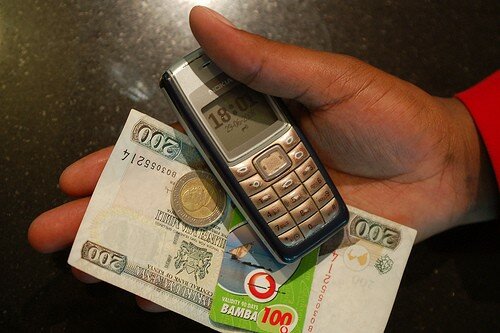 CC image courtesy of whiteafrican on Flickr
Kenyans transacted KSh1.7 trillion (US$19.6 billion) through their mobile phones in the first 11 months of 2013, underscoring the increasing significance of handsets in the financial services sector.
The new figures represent an increase of 23.7 per cent compared to the same period in 2012, when Kenyans transacted KSh1.4 trillion (US$16.5 million).
The surge is mainly attributed to commercial banks and other financial institutions increasingly adopting platforms where their customers can use mobile phones to make payments, as they seek to put in place fresh revenue streams and make it more convenient for clients to transact.
"The reported growth of mobile money in Kenya is hardly a surprise," Bob Collymore, Safaricom chief executive officer (CEO), told HumanIPO. "You would have seen from our own results for the half-year period ending September 2013 that M-Pesa grew by 20 per cent. Kenya is heading to become a 'cash-light' society and given that more than 90 per cent of all transactions are still cash-based I believe that there is significant growth to come from mobile money transactions."
Safaricom particularly has been on the front line in rolling out partnerships with financial institutions, with its mobile loans service M-Shwari boosting the growth of those banked in the country.
HumanIPO reported in August M-Shwari had boosted the total number of bank accounts, with a 13 per cent growth.
According to the Kenya Financial Sector Stability Report 2012, total deposit accounts with member institutions increased from 15.65 million in 2011 to 17.62 million in 2012.
"This growth is due to: financial inclusion initiatives by CBK, introduction of M-Shwari accounts by Commercial Bank of Africa in conjunction with Safaricom, agency banking, aggressive marketing and stable macroeconomic environment," said the report.
"Given that a lot of transactions are still done in cash, we see a big opportunity with products such as Lipa na M-Pesa going forward. It is one of our key pillars of growth as a company," Collymore said.
However, the Central Bank of Kenya (CBK) has been looking to regulate the fast growing service by proposing new draft regulations which include requiring networks with mobile money services to open independent subsidiaries to manage cash remittances.
According to the CBK, the National Payment System Regulations 2013 (NPS) are set to increase the safety and efficiency of the national payment system.
Speaking during Safaricom's launch of its second Sustainability Report, Stephen Mwaura, CBK head of national payment systems, said the government is in the process of establishing a payment service provider management body, that among other things will allow Kenyans to transfer cash across all available networks in the country.
This will lead to Safaricom opening up its mobile money platform M-Pesa to rival network operators in the country.
A recent report by FinAccess National Survey (2013) showed 11.5 million adults use mobile money services in Kenya, compared to 5.4 million using traditional banking services.