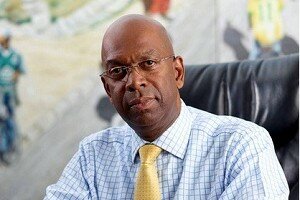 Bob Collymore, CEO Safaricom. CC image courtesy of Albert Kenyani Inima on Flickr
Taxes imposed on international phone calls by Kenya's neighbouring countries in East Africa are pushing up calling charges and need to be removed, according to Bob Collymore, chief executive officer (CEO) of Safaricom.
In an interview with HumanIPO, Collymore said taxes on international calls imposed by East African countries are causing the costs of international calls and roaming services to be too high.
Collymore said the high cost of calls was a key topic of discussion at a meeting held with the Communications Commission of Kenya (CCK) yesterday, and said operators are engaging with the Kenyan government and the regulator with a view to ensuring the levies are removed.
"We [the operators and the regulator] also discussed calling charges in East Africa which are arguably higher than they should be. The main reason for this is the taxes that Kenya's neighbours have placed for international calls to Kenya," said Collymore.
According to the CEO, once the regional governments agree to lower taxes on mobile communications across borders, the savings can be passed on to customers in the form of slashing mobile rates for communications internationally and on a roaming basis.
"We are grateful that the Ministry and CCK are engaging their counterparts within these East African countries to remove these taxes and this will allow us to pass the benefits directly to our customers for both roaming and direct calls to these countries," Collymore said.
Following a government plea in September for a reduction in roaming charges, Collymore urged a reduction in taxes to allow operators to bring prices down.
In December, Information Communication and Technology (ICT) ministers from Kenya, Uganda, Rwanda and South Sudan met in Nairobi to discuss the integration of ICT infrastructure in the East African region, resolving to jointly find ways of reducing the cost of roaming voice and data charges.