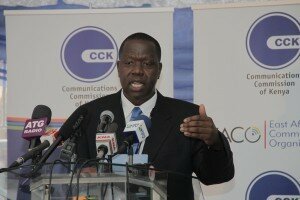 Fred Matiangi, cabinet secretary for ICT. CC image courtesy of CCK
Kenya's new media laws are not intended to gag the press, with the media and the government "not at war", according to Ministry of ICT cabinet secretary Fred Matiangi.
The Media Council of Kenya Act 2013 and the Kenya Information and Communication (Amendment) Bill were signed into law by President Uhuru Kenyatta last month, prompting journalists and stakeholders to hold countrywide demonstrations and a suit to be launched challenging it.
Kenyatta had previously rejected the bill and sent it back to parliament with recommendations, which stakeholders maintain makes the bill even more restrictive than the initial draft.
In a statement, Matiangi denied claims made in the press about the intentions of the new laws.
"It is important to restate that the two laws are not meant to gag the media but rather to ensure that media operations conform to the Kenya Constitution 2010," he said.
He called upon the media industry and stakeholders to comply with the process of implementing the acts.
"It is my desire to see us move to a culture of implementing public policy without unnecessary acrimony," Matiangi said. "The media and the government are not at war and if there are issues that require consultations, clarification or review of the two laws, I invite all stakeholders to raise them with my office using the channels provided for in the law."
He said his role was to set up selection panels for the new bodies legislated for, which he would pick from which he would choose individuals.
"This is an open and transparent process and so there should be no fear that the government will unduly influence the selection or appointments process. I have already written to the bodies mentioned in the acts to present the names of the nominees."
He urged religious organisations, parent teacher associations (PTAs), the media and academia to apply for the positions.
"Let us all work together to create the media we want in Kenya," he said.