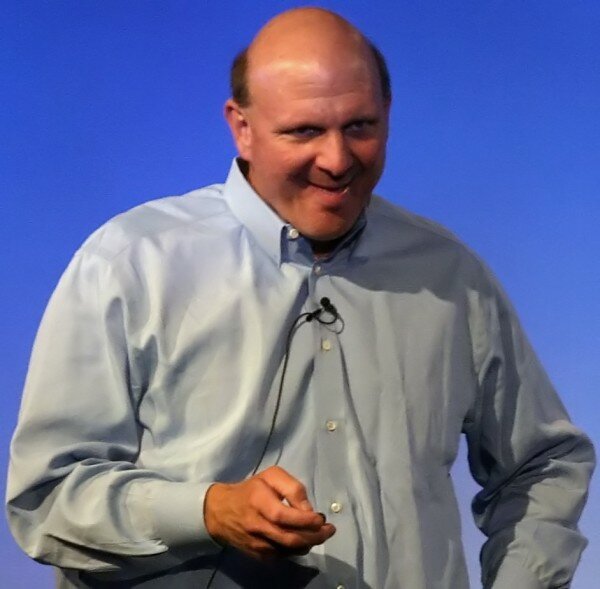 Steve Ballmer, outgoing CEO at Microsoft. CC Image courtesy of Zarek.
Microsoft has announced profits of US$6.56 billion for the quarter ended December 31, boosted by the sale of 7.4 million Xbox consoles and the doubling in revenues from its Surface tablets.
The company also announced revenues of US$24.52 billion, with diluted earnings per share of US$0.78.
Earnings were boosted by the sale of 7.4 million Xbox console units, including 3.9 million Xbox One consoles and 3.5 million Xbox 360 consoles. HumanIPO reported last month Microsoft had said it had sold two million Xbox One units within 18 days of its launch.
Meanwhile, revenue from Surface tablets more than doubled to US$893 million from US$400 million in the first quarter.
"Our Commercial segment continues to outpace the overall market, and our Devices and Consumer segment had a great holiday quarter," said Steve Ballmer, outgoing chief executive officer (CEO) at Microsoft. "The investments we are making in devices and services that deliver high-value experiences to our customers, and the work we are doing with our partners, are driving strong results and positioning us well for long-term growth."
Devices and Consumer revenue grew 10 per cent to US$11.91 billion, while Microsoft recently agreed to acquire Nokia's Devices & Services section for US$7.36 billion.
"We delivered record revenue as demand for our business offerings remains high and we made strong progress in our Devices and Consumer segment," said Amy Hood, chief financial officer at Microsoft. "These results reflect our focus on execution, cost discipline, and long-term shareholder value as we continue to drive the strategic transformation of the company."
Kevin Turner, chief operating officer at Microsoft, said: "We significantly outpaced enterprise IT spend as we continue to take share from our competitors by delivering the devices and services our customers need as they transition to the cloud. Our commercial cloud services revenue grew more than 100 per cent year-over-year, as customers are embracing Office 365, Azure, and Dynamics CRM Online, and making long-term commitments to the Microsoft platform."
However, revenues from Windows OEM declined by three per cent, while there was no mention of Microsoft's drawn out search for a new CEO, with the most recent reports suggesting it was considering Ericsson CEO Hans Vestberg as a replacement for Ballmer.