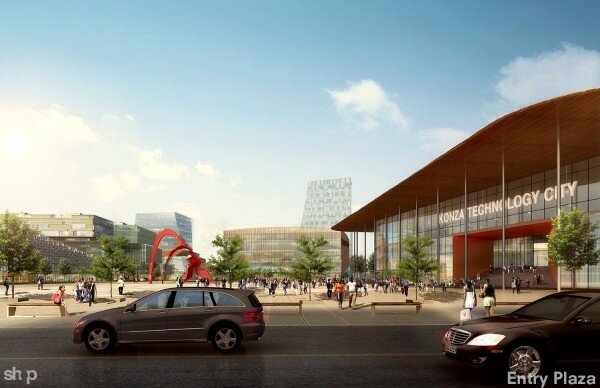 An artist's impression of the Entry Plaza to Konza Tech City.
The Kenyan government has lifted the ban on the 10-kilometre radius around Konza Techno City, also known as the buffer zone, meaning development can now take place on the land
Konza, which obtained National Environment Management Authority (NEMA) approval last week, has attracted criticism over delays and debates over what county it falls into.
During the opening of the Konza Kenya's former president Mwai Kibaki expressed concerns over the mushrooming of slums around the city, though a ban on development within the buffer zone has now been rescinded.
"Notice is hereby given that the director of planning has lifted the declaration of area measuring 75,838.4 acres covering parts of Makueni, Machakos and Kajiado as a special planning area," said Augustine Masinde, director of physical planning at the Ministry of Lands.
Masinde said the lifting of the ban was as a result of completion and approval of Konza technopolis buffer zone plan.
While extending the invitation to developers, the government however maintained the Local Physical Development Plan (LPDP) that was approved last year and that did not approve of uncontrolled development in the area.
Within the rules of the plan are also how guidelines and standards of how telecoms infrastructure, sewerage and roads should be constructed within the buffer zone.
The three counties of Machakos, Makueni and Kajiado have also been asked to come up with uniform bylaws that will prevent the growth of slums in the area.
Other than the LPDP regulations, the three counties neighboring the technopolis have been asked to create uniform bylaws to prevent growth of slums within the buffer.