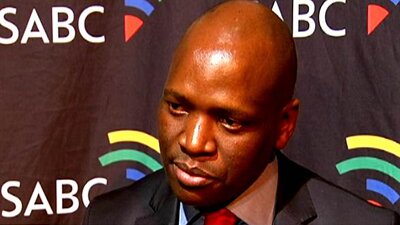 South African communications minister Faith Muthambi has said no progress has yet been made on replacing South African Broadcasting Corporation (SABC) acting chief operations officer (COO) Hlaudi Motsoeneng, with the opposition Democratic Alliance (DA) demanding his immediate suspension.
Muthambi admitted in a reply to a parliamentary question no progress had been made on replacing the controversial Motsoeneng, who was the subject of a number of findings in public protector Thuli Madonsela's February report on the SABC, amongst them that his appointment was irregular and based on lies by him about his qualifications.
Madonsela asked then-communications minister Yunus Carrim to find a suitable candidate to replace Motsoeneng – who is also now under investigation by the Commission for Gender Equality (CGE) over reports he accepted a "wife" as a gift on a visit to Limpopo – within 90 days of her report, though this period has already lapsed.
Muthambi said the ministry had not discussed the issue with Motsoeneng, and DA shadow minister of communications Gavin Davis said he had written to her asking her to request the SABC board immediately suspend Motsoeneng until the "deadlock" at the state broadcaster is resolved.
"In other words, no attempt has been made fill the position despite the public protector's recommendation on February 17 that the communications minister "take urgent steps" to replace Mr Motsoeneng within 90 days. We are now a month and half past the deadline, but no closer to resolving the deadlock that is keeping Mr Motsoeneng in his job," Davis said.
"There is no reason to keep Mr Motsoeneng at the SABC, and every reason to relieve him of his duties. He should be suspended and replaced with a crisis management team to lead the SABC until the appointment of the general chief executive officer (CEO), which the minister has promised will happen in the next three months."
Davis said Motsoeneng had "run the SABC into the ground", and that the longer it took to appoint a replacement the more obvious it would be he was keeping his job for political reasons.
"If Minister Muthambi wants to allay fears that her new Department is a propaganda machine of the governing party, she will take steps to have Mr Motsoeneng suspended without delay," he said.