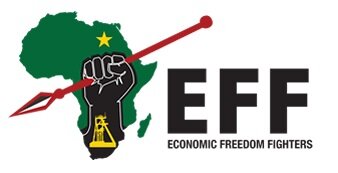 South Africa's third political party the Economic Freedom Fighters (EFF) says it will go to court to prevent the appointment of Hlaudi Motsoeneng as permanent chief operating officer (COO) of the South African Broadcasting Corporation (SABC), labelling him "a liar and a conman".
HumanIPO reported earlier today Motsoeneng had been made a permanent fixture at the state broadcaster despite being the subject of a number of findings in public protector Thuli Madonsela's February report on the SABC, amongst them that his appointment was irregular and based on lies by him about his qualifications.
Madonsela instructed the SABC to replace Motsoeneng within 90 days, yet no replacement has been appointed and he has been appointed permanently, in spite of making further headlines recently by saying journalists should be issued with licences in order to practice in South Africa and allegedly accepted a wife as a gift, sparking outrage from gender groups.
The EFF joined rival the Democratic Alliance (DA) in criticising the move, saying it was "distraught" by the appointment, which it said was not only illegal but also raised concerns over new communications minister Faith Muthambi's ability to carry out her duties.
"The minister assured South Africans during the Parliamentary Joint Portfolio Committee on Communications and Telecommunications and Postal Services last Friday that she will do the following: handle the Vusi Mbembe's court order against the SABC, ensure that the SABC responds and applies the recommendations of the public protector report, and revise the Articles of Association and the Memorandum of Association," the EFF said.
"Not even a week after making such promises, the minister defies all odds and appoints Hlaudi Motsoeneng. Motsoeneng does not deserve to be COO, because he is a liar and a conman. He lied about his academic background and used the very same lies to sell the SABC to MultiChoice. It is astonishing that the minister rewards such insanity."
The party said either Muthambi was weak or she had intentionally misled the public about her intentions with regard to the SABC.
"Motsoeneng's appointment is a reward for being a faithful servant. He is being rewarded for for turning the SABC into a state broadcaster that worships and serves the interests of the ruling party," the party said.
The EFF said it would take the issue to court, and was confident a fair and reasonable Court of Law would find Motsoeneng ineligible to occupy any public office.
"This is indeed a sad day in the fight against corruption, for minister Muthambi has condoned lies and fraud in the promotion of Hlaudi Motsoeneng."