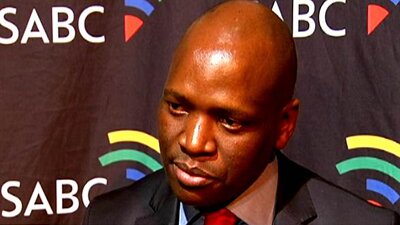 The decision by the Free State Department of Sports, Arts, Culture and Recreation to name a stadium in QwaQwa after controversial South African Broadcasting Corporation (SABC) chief operating officer (COO) Hlaudi Motsoeneng is "an insult" to the town's people, according to opposition party the Democratic Alliance (DA).
HumanIPO reported earlier today the Bluegumbosch stadium in QwaQwa is set to be renamed after Motsoeneng, with the department's Jeff Mthomela saying the name change is at a final stage after public consultations were held.
Mthomela said the decision had been taken to honour Motsoeneng because he had "done a lot of good things in QwaQwa".
However, Patricia Kopane, DA leader in the Free State, said the decision was an insult to the people of QwaQwa, both because of Motsoeneng's conduct at the state broadcaster and the fact QwaQwa had a number of individuals more worthy of such an honour.
"The public protector recently found that Hlaudi Motsoeneng lied about his qualifications and irregularly increased his own salary. At the same time, he has been purging the SABC of anyone who opposes him," Kopane said.
"This is not the kind of person we should be honouring. Hlaudi Motsoeneng should be suspended and condemned for his actions, not celebrated."
She said there were a number of other "well-deserving QwaQwa legends" who deserved the honour more than the SABC boss, such as famous Sotho writer Dr KPD Maphalla.
"Dr Maphalla was born and raised very close to where the stadium is located in Bluegumbosch. He has contributed immensely to the Sotho language and culture and is well-loved in this community," Kopane said.
"We should honour those people that can be examples for young people. I will write to the MEC of Arts and Culture in the province to propose that the stadium rather be renamed after Dr Maphalla."
The DA is taking legal action against Motsoeneng's appointment.