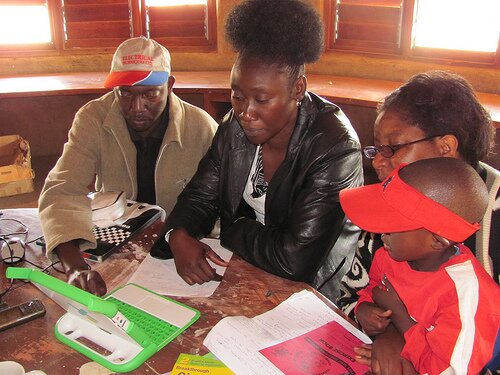 CC image courtesy of Lubuto Library Project on Flickr
The Kenyan government has officially launched the ICT Integration Harmonized Curriculum Guide which will train public school teachers in capacity building of ICT ahead of the one laptop per child programme.
Speaking during the launch, Kenya's education cabinet secretary Jacob Kaimenyi expressed the need to train teachers because otherwise the laptops would be of no use to the pupils or the teachers.
"I want to assure them that technology will not replace teachers, but will add value to their practice," said Kaimenyi.
"The Ministry is acutely aware that the success of the implementation of ICT integration programme in primary schools will depend mainly on teacher training in ICT integration skills and changing their attitude to accept change."
Kaimenyi added the introduction of ICT to children at an early age is envisaged to bridge the digital divide and enable pupils to compete globally.
Kaimenyi further added that teachers should overcome technophobia, embrace change and join other countries around the world who are using technology for teaching and learning.
The KSh53.2 billion (US$609 Million) one laptop per child initiative was one of the Uhuru Kenyatta government's key campaign pillars that seeks to transform Kenya's education system to e-teaching and e-learning.
The launch follows a month long teacher's strike where the Kenya National Union of Teachers (KNUT) accused the government of misplacing priorities.
The union is now supporting the initiative however after coming to an agreement with the government.
The government has also just advertised international competitive bidding for the provision of laptops, printers and projectors for all its public schools.