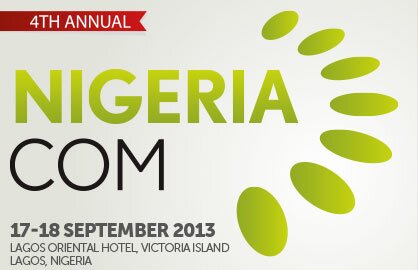 The much anticipated 2013 NigeriaCom conference got underway at the prestigious Oriental Hotel, at the heart of Nigeria's tech capital of Lagos yesterday, with participants and speakers drawn from various sectors of the industry.
The first session on the quality of mobile network services in Nigeria set the tone for the day with operators attempting to downplay the popular notion that telecoms services in Nigeria are still light years away from ideal.
The speakers identified various issues they felt would appeal to the audience, which shared the view of the average Nigerian who could not make it to the conference that the networks are underperforming in the quest for value for money for subscribers.
The representative of MTN Nigeria also affirmed that subscribers are using on average three lines each to guard against dropped calls.
For the NCC, the commission's representative stressed the rules are there for all stakeholders to follow.
Another power packed session was on the future of LTE and Wi-Fi in Nigeria.
From the speeches of the various speakers, one could appreciate the creativity of the operators in Nigeria as they battle with inept and uninterested business owners and users who only want free access.
By partnering with eateries, residential areas and other communities, they are forging ahead, raking in cash in a sector that is threatened by emerging technologies.
The first day also proved that with the successes recorded by Tecno, Samsung and Nokia in Nigeria, telecommunications companies are no longer the only determining factors deciding the course of the telecoms industry in Nigeria.
Although voice calls still bring in the larger chunk of revenue in the sector, the first day of NigeriaCom showed data is on the rise and is forecast to overtake voice in the future.