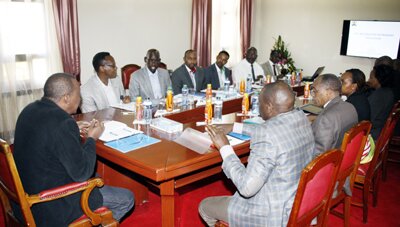 President Uhuru Kenyatta and Deputy President William Ruto briefing on the progress of the ICT Integration & implementation in Primary Education at State House, Nairobi.
Kenyan President Uhuru Kenyatta and his deputy William Ruto have been briefed on the progress of the implementation of the one laptop per child programme in public primary schools ahead of its rollout in three months.
The laptop programme has four pillars: content development, capacity development, infrastructure development and procurement of the laptops.
During the meeting at State House, Nairobi, Jacob Kaimenyi, cabinet secretary for education, said the Kenya Institute of Curriculum Development (KICD) had finalised development of the digital content, which is ready for uploading to the laptops.
He said ICT Teacher Training Curriculum was launched last month and the ICT Integration Manual for trainers is ready.
Kaimenyi added the Ministry of Education is in collaboration with the Ministry of Energy and Petroleum is finalizing a need assessment to facilitate empowering of the schools.
He added stakeholders have been sensitised on the laptop programme's implementation strategy.
President Kenyatta said he wanted to see the ministry advance with speed to ensure the programme is implemented on schedule.
"We have to fast-track implementation of this programme to equip our children with the requisite technological skills at an early age. This will enable them to compete favourably with their peers at the global arena," Kenyatta said.
The President said the programme is one of the Jubilee Coalition's priorities, which will transform the country's education sector.
The brief comes just three weeks after the KSh9.7 billion ($113M) laptop project ran into a procurement crisis after bidders quoted higher than the budget for providing laptops.
Only nine companies are bidding for the lucrative tender, but one vendor placed a double bid in a process that saw the lowest bidder quoting KSh28.7 billion ($31M) — more than three times the budget.
Chinese company Huawei PTE Ltd is the highest bidder quoting KSh60.5 billion ($69.9M), while other bidders include Samsung Electronics, Symphony Technologies, Haier Technologies, ZTE Corporation and Telkom Kenya.