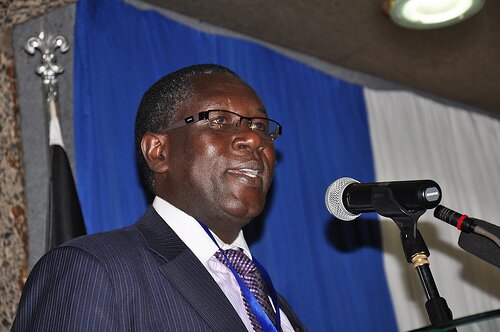 CCK Director General Francis Wangusi CC image courtesy of chimgimode2007 on Flickr
Kenya's telecommunications regulator the Communications Commission of Kenya (CCK) is reviewing current SIM card regulations in a bid to make agents and subscribers criminally liable for sale and use of unregistered SIM cards.
The regulator said the current regulations on mobile phone subscriber registration are inadequate in streamlining the use unregistered SIM cards.
It said the current regulations do not make subscribers and contracted agents of mobile companies liable when the unregistered SIM cards enter the market.
The current regulations, the Kenya Information and Communications (Registration of Subscribers of Telecommunication Services) Regulations 2012, Legal Notice No 1 of 2013 which was promulgated in December 28, 2012, only hold mobile operators and their chief executive officers (CEO) liable for the sale and use of unregistered SIM cards hosted on their networks.
Francis Wangusi, CCK director general, said the new regulations will hold liable subscribers who do not register their personal details for SIM cards as well as agents who sell pre-activated cards.
"The regulations that we have in place have a few loopholes in that they do not directly criminalise the agents of the telecommunication firms for selling SIM cards without registering them and the people buying and using unregistered SIM cards," he said.
Wangusi said the enhanced subscriber registration regulations should be in place within a month.
"We have already gone through the new regulations with the operators and agreed on the areas to be amended," Wangusi said.
He said what remains is to subject the new regulations to the views of the public, which is a requirement of the new constitution, and thereafter ascension by the government.
The regulator has been under mounting pressure after President Uhuru Kenyatta ordered an immediate mop up of all unregistered SIM cards be conducted by a joint effort of all stakeholders to ensure there are none being used by criminals.
The president spoke while meeting chief executive officers (CEOs) of four mobile phone companies, who recently gave statements to police after the government threatened their arrest and prosecution for non-compliance with a law requiring them to deactivate unregistered SIM cards on their networks.
The Kenyan government is also seeking new regulations and frameworks that will see agents take bio-data of SIM card owners and next-of-kin information, in an effort to streamline mobile phone operations.