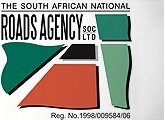 For the time being there are no special courts planned for the prosecution of e-toll non-payers, despite reports indicating the contrary, said the South African National Roads Agency Limited (SANRAL).
"There's nothing like that, there won't be any special courts to enforce e-tolling," Eye Witness News (EWN) quoted Vusi Mona, national spokesperson for SANRAL, as saying.
HumanIPO reported last week on the special courts, an idea which was reportedly being discussed by SANRAL and the Department of Justice.
According to a report by the Beeld, Mthunsi Mhaga, spokesperson for the Department of Justice, said SANRAL had made a request for a special court to enforce the controversial e-tolling system on Gauteng's freeways.
Mona confirmed the meeting between SANRAL and the department, but maintained no plans have been made to establish the courts.
The idea of special e-toll courts sparked controversy in the country with both the Democratic Alliance (DA) and the Justice Project of South Africa (JPSA) criticising the idea.
Mmusi Maimane, the Gauteng premier candidate for the DA said this, together with expensive tariffs, showed the government was adamant about emptying the pockets of South Africans.
The JPSA said it was disgusted at the fact SANRAL was pushing for special e-toll courts when special courts have not been set up to deal with priority crimes such as rape, murder, and armed robbery. The JPSA also questioned the government's priorities.
E-tolling is set to be implemented before the end of the year following president Jacob Zuma signing the Transport and Related Matters Amendment Bill into law.