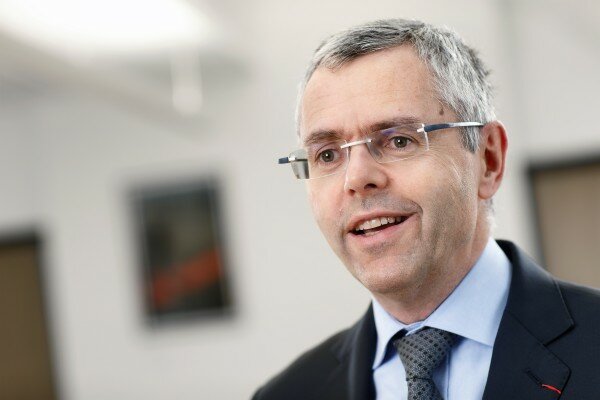 Michel Combes, chief executive officer of Alcatel-Lucent.
Alcatel-Lucent's refocusing of its priorities and planning for a future based around cloud, LTE and patent monetisation has put it "back in the game", according to chief executive officer (CEO) Michel Combes.
Combes told the Alcatel-Lucent Annual Technology Symposium in New Jersey, United States, the company's Shift Plan, part of which has seen it cut 10,000 jobs, involved a rethink of its strategies that had allowed it to bounce back, earlier this month reporting a seven per cent year-on-year increase in revenues weeks after Combes had said the future of the company was at risk.
"In the last year we have reassessed what has been done in previous years," Combes said. "We have reset our strategy, and we have been able to rebound in many domains."
The CEO said Alcatel-Lucent had regrouped its strategic businesses with a tighter portfolio, and that he envisaged three alternative futures for the firm, becoming a cloud network company, becoming a profitable ultra broadband specialist, and increasing its innovation engine and monetises patents.
"I will argue that Alcatel-Lucent is more relevant than ever leveraging its cloud, ultra broadband and innovation strength. Most of our competitors rarely exhibit strength in all three areas," Combes said.
"When you transform a company it is always extremely important to leverage its internal DNA, because it is what is most difficult to change."
Combes said Alcatel-Lucent had in the past missed large market shifts and would learn lesson from that as it planned a successful future.
"We believe our future depends on us being ready to lead the next market shifts and that is what the management team is committed to," he said.
"It has been a difficult journey for Alcatel-Lucent so far. Looking back, the company was not operationally or culturally ready to capture the market shifts."
But he said the changes made by the company meant it was well placed to compete in the areas of cloud, LTE and patents.
"We are experts in resilient and scalable networks. We are now establishing ourselves as the reference in excellence. We have a real chance to challenge Cisco in the service provider market. We are also developing a strong position in the ultra broadband domain."
He said one main priority was getting ahead in terms of rollouts of LTE networks.
"Service providers are increasingly competing to be the first to provide LTE capacity," Combes said. "We all know that the first to launch takes a disproportionate market share."
The manufacturer and network specialists launched West Africa's first commercially available LTE network in Ghana in July this year, in partnership with Surfline Communications, while it has also been working on 4G services with Smile Communications in Tanzania and completed superfast broadband trials with Tunisie Telecom in North Africa.
HumanIPO reported earlier this week Alcatel-Lucent had partnered with data-only specialists YooMee to provide Cameroon with its first LTE network in the first quarter of 2014.
Cloud is another area in which Combes believes the company can take the lead.
"Users will possess in the future not one, not two, not three devices, but 10, which will change the way the user interacts with the network," he said. "Network and cloud infrastructure are really intersecting now. You cannot choose one or the other."
He said the company was shifting into a new industry area.
"This is a unique opportunity for companies such as us. Times are moving towards the network providers."
Monetising patents was another areas of renewed focus for Alcatel-Lucent.
"We will focus on the development of high-value technology with the expressed intent of monetising patents. And that is something we have not been so good at so far," Combes said.
"I strongly believe we have a strong patent portfolio within Alcatel-Lucent. It is fair to say that this has probably not been a strong area of focus to monetise these patents in the past because it was not a priority. Because compared to our competitors we have perhaps been a little bit slow.
"To lead each of these transitions we will need to ensure all our products are highly valued by our customers and differentiated from our competitors. We cannot just be price-based."