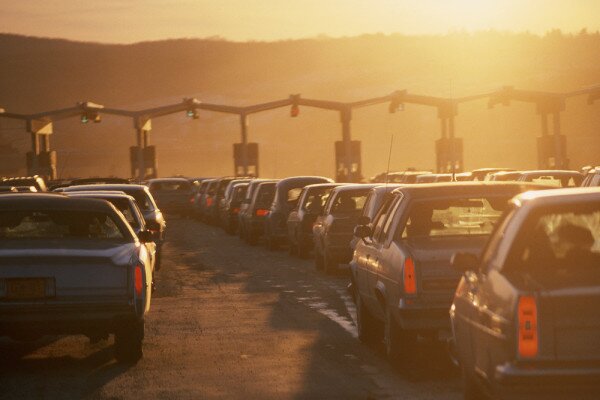 The Freedom Front Plus (FFP), the Congress of South African Trade Unions (COSATU), the Opposition to Urban Tolling Alliance and the QuadPara Association of South Africa (QASA) have all promised to continue the fight against e-tolling in Gauteng, which is set to begin on December 3.
HumanIPO reported yesterday transport minister Dipuo Peters' announcement e-tolling will go live on December 3, following president Jacob Zuma signing the Transport and Related Matters Amendment Bill into law in September.
Already civil rights organisation AfriForum has said it will not be registering its company vehicles for e-tolls and encouraged motorists to avoid registering and make the system impractical, while the Democratic Alliance (DA) premier candidate for Gauteng Mmusi Maimane promised to scrap the system if he is elected in the province.
The South African Press Association reports the FFP as saying Peters is misleading the public through her threats to motorists without e-tags.
"Minister Peters threatened that motorists without e-tags would pay double and would not be considered for any special discount," said FFP spokesperson Anton Alberts.
"The minister is misleading the public with her threats and is blackmailing motorists. There is no legal obligation to obtain an e-tag. Motorists who do not purchase e-tags may legally not be fined as they are not contravening any law."
He said the FFP would continue with its application in the High Court in Pretoria to have the bill declared unconstitutional, which will be heard in December.
COSATU released a statement saying it "noted with anger" the announcement, and "reaffirms its continued total opposition to this attempt to privatise our public roads and force us to pay to travel on roads we have already paid for through taxes and the fuel levy".
"The federation urges all motorists to continue to refuse to buy e-tags, which they have absolutely no legal obligation to buy. Further statements will follow."
OUTA, meanwhile, expressed its "profound disappointment" at the decision, saying it has "hugely ominous consequences for our country".
"We are concerned that the Executive Arm of Government has failed to take society into its confidence, and in the process has sown the seeds of what we fear will go down in history as a very costly failure, of something that could have been avoided", said Wayne Duvenage, chair of OUTA.
"There has been massive rejection from across the board – labour, business, the churches and civil society at large – yet the authorities simply continue to ignore this issue. It is extremely sad that Minister Peters seems to have been lulled into a dangerous sense of self–deception by the advocates of e-tolling."
OUTA said it would be launching new initiatives to oppose e-tolling, and also pointed out that it was not a legal requirement to get e-tags.
QASA, which represents South African quadriplegics and paraplegics, said it also opposed the measures.
"To imagine Gauteng motorists departing for their year end break with the South African Government facing charges of human rights violations against people with disabilities is a crying shame," said chief executive officer (CEO) Ari Seirlis.
The organisation said it would "respond vigorously to this discriminatory infrastructure which will immobilise the disability community" and would seek the intervention of the Human Rights Commission to ensure justice is done for people with disabilities.
"SANRAL has misled the disability community that there will be a concession in order to encourage the disability community to register for an e-tag," said Seirlis. "Further discrimination of a more serious nature is that people with mobility impairments who do not own vehicles, do not have opportunity to own an e-tag which would give them an exemption, to be passed on to the driver who is voluntarily giving them a lift."
Image courtesy of Shutterstock.