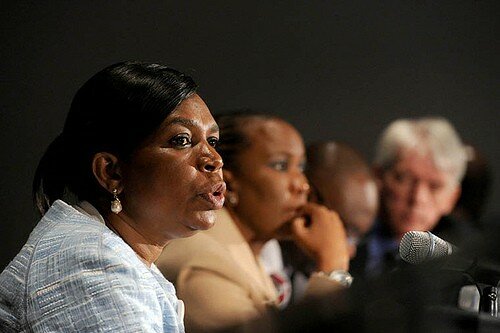 Dina Pule. CC Image courtesy of GovernmentZA on Flickr.
Dina Pule, South Africa's disgraced former communications minister, is expected to be told to resign by the public protector in his report into her conduct while in office after it was leaked to a national newspaper.
Thuli Madonsela, South Africa's public protector, has been investigating Pule's conduct and particularly her relationship with Phosane Mngqibisa.
The Sunday Times claims the leaked report states Pule lied and cheated to allow Mngqibisa to "plunder the public purse".
Parliament's own inquiry has already recommended a police investigation while reporting Pule "willfully misled" parliament and there were subsequent allegations Pule and Mngqibisa were involved in an assassination plot against those investigating them.
Madonsela however also finds Pule's conduct however to have been "unlwaful", "grossly improper" and "unethical".
The report will confirm that Mngqibisa did benefit financially from the Cape Town ICT Indaba last year as well as the fact Pule and Mngqibisa were in a relationship and had paid trips abroad funded by the Department of Communications.
The report will also recommend that Pule leave her seat in parliament and apologise to the Sunday Times after the former minister and the newspaper clashed publicly over the latter's repeated investigations and articles into her conduct.