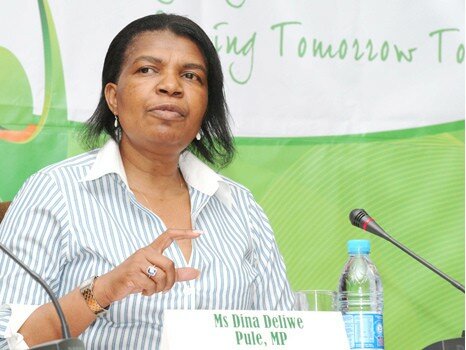 Former minister Dina Pule. CC image courtesy of GovernmentZA.
Dina Pule, South Africa's disgraced former communications minister, has been ordered to apologise to the Department of Communications (DoC), parliament and the Sunday Times newspaper by the country's public protector Thuli Madonsela.
Madonsela's long-awaited report delivers a damning verdict of Pule's conduct while in office, including the assertion that she did indeed have a "romantic relationship" with businessman Phosane Mngqibisa, and describes her actions at times as "unlawful" and "unethical".
At the centre of the Madonsela investigation were the allegations Mngqibisa benefited financially from sponsorship deals surrounding the Cape Town ICT Indaba, organised by the former minister, last year and why the DoC was paying for the pair of them to take trips abroad.
"I had to deal with allegations that honourable Pule had a relationship with a certain Mr Mngqibisa which influenced his behaviour in the indaba," Madonsela wrote.
"It was also alleged that this Mr Mngqibisa was represented to the Department of Communications as honourable Pule's companion and that he improperly benefited as such from the departmental finances."
The Sunday Times newspaper was responsible for publishing many of the allegations surrounding Pule during her time in office and also clashed publicly with the minister after she reported them to the press ombudsman.
Madonsela said the Sunday Times was just one organisation Pule should now apologise to.
"I am asking honourable Pule to apologise to the Sunday Times for the persistent insults and denial of the truth that she eventually admitted to me, and affected staff members of the Department of Communications for placing them in an unethical situation involving persistent lies and deceit," she said.
"Honourable Pule is being asked to apologise to Parliament for persistently misleading this august constitutional pillar and never admitting the truth right until the end.
"Our understanding is that she never admitted to Parliament the full circumstances of what happened."
HumanIPO reported in August parliament had concluded its own investigation into Pule which stated then that she had "willfully misled" them and recommended a further police investigation.
Following that report it was also alleged Pule was connected to an assassination plot involving African National Congress (ANC) MP Ben Turok, who chaired parliament's ethics panel.