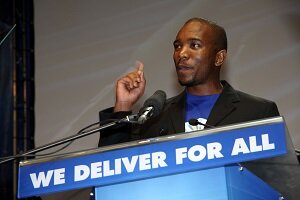 Mmusi Maimane, DA premier candidate for Gauteng. CC image courtesy of the Democratic Alliance on Flickr.
South African National Roads Agency Limited (SANRAL) chief executive officer (CEO) Nazir Alli has been likened to apartheid-era president PW Botha by Democratic Alliance (DA) premier candidate for Gauteng Mmusi Maimane.
The South African Press Association (SAPA) reports Maimane told a rally against e-tolling in Johannesburg the African National Congress (ANC) had forced e-tolls on South Africa in an authoritarian manner similar to that Botha was renowned for.
"Transport links should connect and integrate us. What e-tolls will do is keep us separate and apart… Nazir Alli is the PW Botha of today," he said.
"We are here because we are angry and we are here because we must take a stand."
He said: "Today we tell this ANC government to proudly take their e-tolls back," he said.
E-tolling was launched on Tuesday, but opposition has continued, with HumanIPO reporting earlier today unions affiliated to the Congress of South African Trade Unions (COSATU) in the South African Post Office (SAPO) and Gauteng metro police have promised to assist with the fight against the controversial policy.
HumanIPO reported on Tuesday COSATU in Gauteng had declared "Black Tuesday" for the poor and the working class after the launch of e-tolling, promising civil disobedience against the policy.
"We wish to confirm that as COSATU, and all other working class formations opposed to the e-tolling, will continue to fight for the scrapping of the unjust system," Dumisani Dakile, provincial secretary of COSATU in Gauteng, said in a statement.
The DA and COSATU are joined by the likes of the Freedom Front Plus (FFP), the Opposition to Urban Tolling Alliance (OUTA), the QuadPara Association of South Africa (QASA) and civil rights organisation AfriForum in refusing to give up the fight against e-tolling.