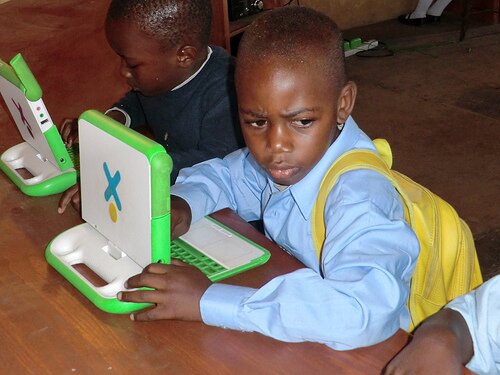 CC image courtesy of Lubuto Library Project on Flickr
The Kenyan government has shortlisted three international companies for the supply of the laptops which will be given free to class one students at the end of the the first quarter of 2014.
The Nation reports China's Haier Electricals Appliances Corporation quoted the highest at KSh24 billion (US$278 million), Hewlett Packard (HP) quoted KSh23 billion (US$266 million) and Indian device manufacturer Olive Telecommunications quoted KSh22 billion (US$254 million).
The re-advertised tender includes the supply, delivery, installation and commissioning of computing devices and solutions for ICT integration in education in primary schools and supplying 20,637 laptops for teachers.
The quoted prices by the manufacturers are set to save the Kenyan government over KSh10 billion (US$115 million) compared to the last cancelled tender, when HP Commercial was the lowest bidder, quoting KSh32 billion (US$370 million), with a unit price of KSh23,000 (US$266) per laptop, almost double what the government had budgeted for.
However the negotiated price is still higher than the government's initial budget, advertised on August 2, for procurement of 1.3 million laptops, 20,367 projectors and 20,367 printers.
The government allocated KSh53.2 billion (US$615 million) in June's national budget for the one laptop, one child policy, to be implemented in four phases, with the first phase intended to cost KSh12 billion (US$139 million).
Belio Kipsang, Ministry of Education principal secretary, said over the weekend the tender could be concluded in the next two weeks after proper evaluation of the lowest bidder, with a technical team from the ministry set to visit Olive Telecommunications.
"We expect these supplies in Kenya by February so that the learners can start engaging with the gadgets within the first term next year," he said.
HumanIPO reported last month the Ministry of Education had extended the deadline for the submission for its free laptops to November 21, citing the need to address bidder concerns.
So far the Kenyan government has trained 150,000 primary school teachers who will oversee e-learning in all public schools ahead of the launch, which was extended to the first quarter of 2014.