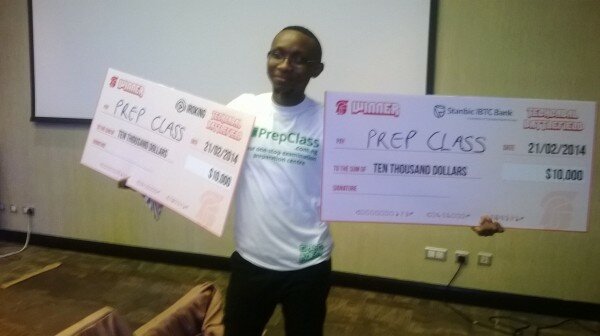 Educational portal PrepClass emerged winner of the maiden edition of the TechCabal Battlefield startup competition at the just concluded Social Media Week (SMW) Lagos, claiming the US$20,000 prize.
HumanIPO reported last month Nigerian tech blog TechCabal had partnered with Stanbic Bank, Jobberman and Social Media Week (SMW) Lagos to launch Battlefield, with Stanbic's US$10,000 contribution doubled to US$20,000 after online music service iROKING pledged US$10,000.
PrepClass, which provides users with study materials including practice questions, beat voice communication firm Callbase and electrical and motor e-commerce platform Autobox, who were first and second runner-up respectively, to the top prize.
According to the judges, PrepClass was selected based on the problem it solved, the amount of work on the project completed so far and its market feasibility.
In an interview with HumanIPO after the competition, Aniebet Willie, web designer for PrepClass, said the team was happy with its victory.
"We are happy we won because everybody had a chance of winning and our chance was as equal has every other person's," he said.
"We have a product that is scalable and we've been doing it over time and this was just our big win."
According to PrepClass the project started in June last year, although work had started on it earlier, and it has gained traction among users.
"We now have $20,000 and we've been looking for money since. There are lots of things – projects, debts. Basically we will pay our debts and just move on," Willie said.
"We are going to improve on the quality and number of our contents, offline and online works, more apps and other stuffs."
He advised individuals with ideas to build their team based on their dreams.
"It depends on your dream and what you want to do. For us it was more than building PrepClass, it was solving a need. At some point we wanted it to be free because we just wanted people to use it," he said.
While pitching, the team said it is working with cybercafés as part of its business strategy. But with more Nigerians having direct access to personal internet services, Gbenga Sesan, one the judges, expressed pessimism over relying on cybercafés.
In response, Willie told HumanIPO
"We are not doing just JAMB, we are doing other projects. JAMB is just our first exam and we have a number of exams out there," he said.
Bankole Oluwafemi, editor of TechCabal, told HumanIPO the decision was reached based on the technology, business aspects and the problems the startups are solving.
"It could have swung anywhere. I'm sure the decision was a good mix of technology, they looked at the business angle and how it solves development issues," he said.
On lessons learned from the challenge, he told HumanIPO that TechCabal now understands the ecosystem more than before.
"TechCabal now knows that the ecosystem wants to see what is going on and are ready to support the startups making waves and solving developmental challenges. We want to fill that vacuum and be the place people can come to, to know what is happening in Nigeria's tech ecosystem," he said.
Nigeria currently has several startups attempting to tackle the challenges in the education ecosystem. When asked if the judges were aware of the existence of several other similar platforms such as Passnownow, Fora.ng and Tutor.ng, he said the judges had to make the decision among the finalists.
"This is a competition among seven startups. It's not so much about what is already in the market. Even at that, nobody has really cracked the education sector yet. It might be Fora.ng, PrepClass or any other startup. The US$20,000 will give them a chance to try," Bankole said.