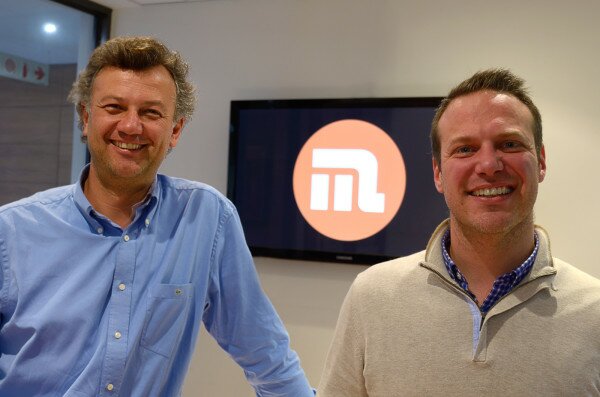 Michael Jordaan, newly appointed Mxit board of directors chairman and Francois Swart., CEO at Mxit. Image courtesy of Mxit.
South African chat app Mxit can increase the number of messages it sends a say from the current 400 million to billions, according to new chairman Michael Jordaan.
HumanIPO reported last month on Jordaan's appointment to the Mxit board, following his decision to leave First National Bank (FNB), where he had served as chief executive officer (CEO) for a decade.
In an interview with HumanIPO, Jordaan said Mxit's understanding of young people meant it had the potential to grow significantly.
"Mxit's historic focus on feature phones phones means it understands the youth in emerging markets," he said. "The challenge is now to scale it across the rest of Africa and India. I am very impressed with the talent at Mxit and believe they will significantly improve the current user experience and smoothly migrate to smartphones as well."
A recent World Wide Worx survey showed the number of active users of Mxit was increasing, but Jordaan believes there is much more to come.
"In 2015 there will still be more than 600 million feature phone users in Africa," he said. "This is the primary target market. It is also important to maintain and grow the engagement. Currently Mxit sends 400 million messages each day. That is already staggering but can become billions if we do our job right. "
Jordaan said his new role at Mxit centred around strategy and that he was there to support new CEO Francois Swart, who was appointed to the position permanently last month having been acting in the role since Alan Knott-Craig Jr left the company in October last year.
"I am a non-executive chairman, responsible for strategy sign-off and to set the CEO Francois up for success," Jordaan said.
"Apart from being my passion I believe technology will change the world more fundamentally in the next ten years than in the past 50. The Cape is well positioned to attract the correct skills in a flat, globalised world due to the obvious lifestyle benefits."
He said Mxit would not be his only project upon leaving FNB, and that he had some startup ideas that he would reveal more details on next year. He said he was keen to base himself out of Cape Town after years in Johannesburg.
"My family lives in Stellenbosch and the FNB head office is in Johannesburg," he said. "After nearly six years of commuting to Johannesburg I need to spend more time with my family. Also I think CEOs should not hang around for more than ten years, which was my time in the hot seat."
FNB has been undergoing personnel changes recently, with Farren Roper following Jordaan out of the company after leaving his position as head of Connect ISP and business operations, but Jordaan said the bank would continue to prosper in spite of the departures.
"Farren is a great guy and will be missed," he said. "The FNB innovation pipeline is full and the culture of innovation that took some time to establish is thriving.