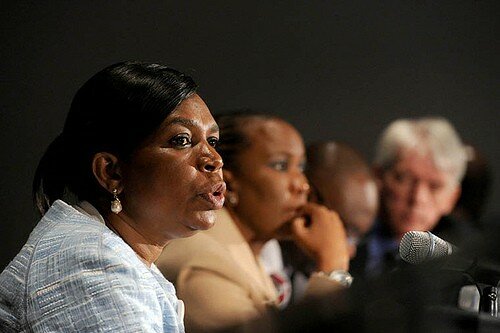 Dina Pule. CC Image courtesy of GovernmentZA on Flickr.
Former South African communications minister Dina Pule has decline her nomination by the ruling African National Congress (ANC) for the National Assembly ahead of the May elections.
HumanIPO reported earlier this month Pule had been included on the party's list of parliamentary, in spite of a public protector report in December finding her guilty of "unlawful" and "unethical" behaviour.
The selection prompted criticism by opposition parties, but Pule said in a statement she has decided not to stand.
"I have given great thought to what I should do with the rest of my life, and whilst I will remain a loyal and committed member of the ANC, it is in my best interest and that of my children and family that I withdraw from the ANC list and be allowed to live my life in peace," she said.
Pule was fired as minister of communications by president Jacob Zuma in July of last year, with the public protector's report subsequently condemning her behaviour and ordering her to apologise to parliament, the Department of Communications (DoC) and the Sunday Times newspaper, which she had multiple public clashes with.
Parliament's ethics committee also found Pule "wilfully misled" parliament and referred its investigation to the police for possible criminal action, while there were calls for her to be expelled from parliament altogether.
During the investigations allegations also emerged Pule was involved in an assassination plot alongside her alleged boyfriend Phosane Mngqibisa against the head of the parliamentary ethics committee investigation, Ben Turok.