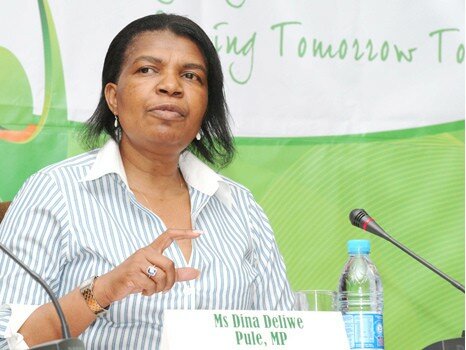 Former minister Dina Pule. CC image courtesy of GovernmentZA.
Former South African communications minister Dina Pule has been included on the ruling African National Congress (ANC) list of parliamentary candidates ahead of the May elections, in spite of a public protector report in December finding her guilty of "unlawful" and "unethical" behaviour.
The ANC submitted its list to the Independent Electoral Commission (IEC) yesterday, naming Pule 70th, while her replacement as communications minister, Yunus Carrim, is listed at number 40.
"About 62 per cent of the serving parliamentarians will be returning," said ANC secretary general Gwede Mantashe, reports the South African Press Association (SAPA).
"We are comfortable [with the list]. We looked through it carefully."
The public protector's report condemned Pule's behaviour during her time as communications minister and ordered her to apologise to parliament, the Department of Communications (DoC) and the Sunday Times newspaper, which she had multiple public clashes with.
Parliament's ethics committee also found Pule "wilfully misled" parliament and referred its investigation to the police for possible criminal action.
During the investigations allegations also emerged Pule was involved in an assassination plot alongside her alleged boyfriend Phosane Mngqibisa against the head of the parliamentary ethics committee investigation, Ben Turok.
In July 2013, Pule was fired by president Jacob Zuma, and replaced by then deputy co-operative governance and traditional affairs minister Carrim, while there were calls for Pule to be expelled from parliament altogether.
While Carrim had no communications based experience on his appointment to the ministerial post, he has since then started tackling a number of pressing issues, pushing for progress in digital migration and the solution of problems at the South African Broadcasting Corporation (SABC), gazetting a new Broadband Policy, and most recently, forming a National Broadband Advisory Council.
Opposition party the Democratic Alliance (DA) responded to the ANC's list today, saying it proved the ruling party is "not serious about fighting corruption".
"The ANC's lists for the National Assembly includes candidates who should rather be in court and/or are grossly unsuitable for public office," the DA said, listing Pule as the first such candidate.