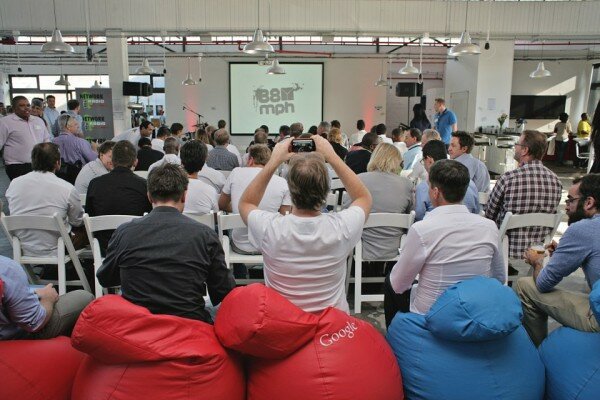 The 88mph 2012 Demo Day, held in Cape Town.
The 88mph accelerator programme in Cape Town is holding its Investor Day this evening, when its seven startups will pitch to investors in a bid to secure follow-on funding.
The event will be held at Crossley & Webb's vintage car showroom in Cape Town from 5pm.
HumanIPO reported last month 88mph had chosen seven startups in which to invest US$300,000, who also gained access to business networks, mentoring and infrastructure.
"For the past three months the 88mph team and I have been helping our startups build their businesses, and it's a constant effort that requires focus, positive energy and activity from all involved, but what a privilege it's been. I've worked with many businesses over the last 20 years, but never have I worked with seven startups all in one go. Hectic is an understatement!" said programme manager Dan Bowyer.
The seven startups pitching this evening are appointments service diarize.me, event dating app Catch, pet food delivery service Pet Heaven, property rental marketplace Ekaya, big data and mobile commerce service Graphflow, insurance premium receipting and allocation firm Byte Money, and premium ad network 8Bit.
"With the increase of mobile and internet penetration in Africa, traditional industries are being disrupted. Our goal is to invest in the startups at the forefront of this trend and introduce them to other investors who are also interested in investing in the future of consumer facing and enterprise businesses," said Kresten Buch, founder at 88mph.