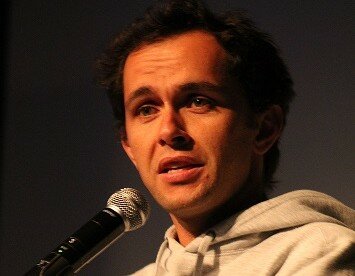 Alan Knott-Craig, founder of Project Isizwe. Picture by HumanIPO.
South African non-profit Project Isizwe has announced it has rolled out phase one if its free Wi-Fi programme in the City of Tshwane, looking to harness the power of the internet for educational and economic purposes.
HumanIPO reported in August the City of Tshwane, in Pretoria, had partnered with Project Isizwe to provide free Wi-Fi to residents, with Project Isizwe founder Alan Knott-Craig Jr telling HumanIPO his organisation was targeting low income communities and also plans to launch in the Cape Flats.
"This is a groundbreaking initiative for the city," Tshwane mayor Kgosientso Ramokgopa said at the launch in Church Square today. "Tshwane is igniting excellence through technology use."
He said: "The Wi-Fi roll out will benefit communities by granting free access to the web; allowing users to participate in the mainstream economy."
Locations covered in phase one are TUT Soshanguve Campus, the University of Pretoria's Hatfield Campus, Tshwane North College, Mamelodi Community Centre and Church Square in the Pretoria CBD, while phase two aims to launch additional Free Internet Zone's (FIZ) in Soshanguve, Mamelodi and Atteridgeville by the end of 2014.
"Roll out sites were strategically chosen due to the high concentration of learners, with emphasis on places of convergence," Ramokgopa said.
Each of the FIZ locations allow users with Wi-Fi enabled devices to access free internet without any logins or passwords, though users are limited to a data caps of 250MB per device per day and certain websites are prohibited.
'On-Net' content, which does not require breakout to the internet, has no limits on usage, and will be focused on education and economic upliftment.
"We'd like to show Africa, and the world, a model for how governments can provide free internet access in low income communities, in the most frugal manner possible," said Knott-Craig.
Project Isizwe believes internet access should be considered an essential service, such as water or electricity, and Knott-Craig said he wanted the concept to scale across the continent.
"South Africa is the test bed for now," he said. "But I see no reason for not applying a cookie-cutter to the rest of Africa. It's not a question of "is it possible". It's a question of "do you want to do it" in other words, unlike so many other grand schemes, the only barrier for free Wi-Fi across Africa is political will."
Though the City of Tshwane is the first location to be provided with free Wi-Fi by Project Isizwe, there are already a number of free Wi-Fi locations, with District Six's Harrington Square becoming the latest area of Cape Town to benefit from open connectivity, following launches in Company Gardens, Green Point and the Cape Flats.
HumanIPO reported in October G-Connect had partnered with the Golden Lions Rugby Union to make Johannesburg's Ellis Park South Africa's first Wi-Fi enabled stadium ahead of the rugby test between South Africa and New Zealand.