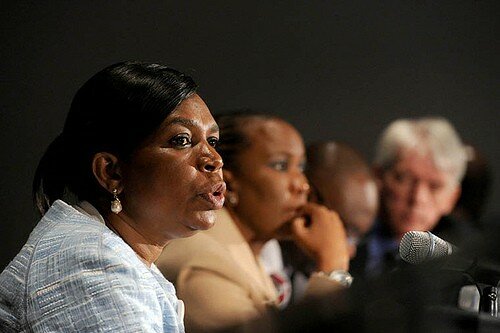 Dina Pule. CC Image courtesy of GovernmentZA on Flickr.
The inclusion of Dina Pule on the ruling African National Congress' (ANC) list of parliamentary candidates sees the disgraced former minister communications minister continue to undermine both the integrity of the party and the concepts of transparent and accountable governance.
HumanIPO reported on Wednesday Pule had been named on the ANC's list of parliamentary candidates ahead of May's general elections, despite a proven legacy of unlawful, unethical and entirely ineffective conduct in office.
Pule held the position of communications minister until July 2013, when she was fired by president Jacob Zuma amidst a barrage of allegations of misappropriation of departmental funds intended for the ICT Indaba held in Cape Town in 2012, with Pule allegedly having played a key role in the grant of contracts and funds to boyfriend Phosane Mngqibisa.
An investigation by parliament's ethics committee found Pule did have a relationship with Mngqibisa and had "wilfully misled" parliament about the relationship and her boyfriend's receipt of funds, with the committee also referring the investigation to the police for criminal probe. The head of the committee was also subjected to death threats allegedly emanating from Mngqibisa and Pule.
An investigation by the public protector also confirmed the romantic relationship between Pule and Mngqibisa, and described her conduct as minister as "unethical" and "unlawful".
Meanwhile, South Africa's auditor-general in September released a report finding the department of communications (DoC) missed over 46 per cent of its targets under Pule's leadership, with appointments made without stakeholder approval and appropriate funding, suppliers not being paid, and excessive delays to recruitment processes.
The National Treasury in its in its mid-term policy statement in October admitted the DoC made no progress towards job creation, broadband penetration, hub creation or set-top box manufacturing.
With such a list of damning findings of incompetence and corruption typifying the entirety of Pule's tenure as communications minister, it is inconceivable she should be included in a new parliament intended to lead and support the country in development and progress over the next four years.
The fact her name appears on the ANC's candidates list sees the party apparently condone "unlawful" and "unethical" behaviour by a minister, as not only has it not ejected Pule from parliament altogether, it has re-selected her – placing renewed trust in her abilities and reliability.
By placing its backing behind such a character, the ANC holds in contempt the concepts of transparency, responsibility, accountability and credibility of an elected government in the eyes of the voting public.