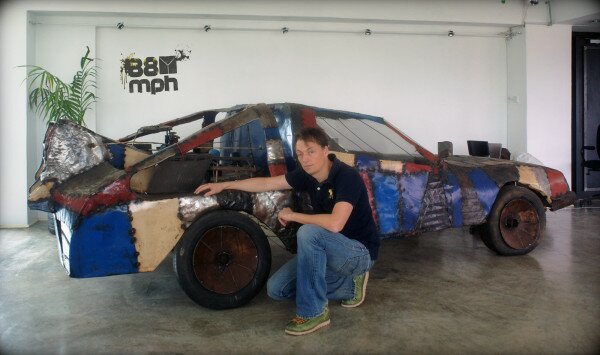 88mph MD Kresten Buch
The opportunities in emerging markets in Africa and Asia are so large startups no longer need to expand to the United States (US) and Europe in order to scale, according to 88mph managing director (MD) Kresten Buch.
Speaking to journalists as the 88mph accelerator programme in Cape Town unveiled its seven startups to the media, Buch said emerging markets in Africa as well as the likes of India and Indonesia were where opportunities lay for investment funds and the startups they put money into.
"Emerging market opportunities are very big and it doesn't come with the same competition you would have if you went to the US or Europe," he said, adding he would rather startups 88mph invests in in South Africa expand to other African countries or Asia.
"Being in South Africa and having a network in Nigeria and Kenya, you can more easily expand up there than into the US."
He said the benefit of investing in companies in Africa was that successful businesses could be built with relatively few people or resources.
"You can build quite valuable companies with quite few people. If you start mapping out sales prices divided by staff, it's been going up," he said. "A relatively few brilliant people can create a lot of value. We talk about how we can attract the best people so we can attract investment. The value of smart people is increasing because mobile businesses scale well."
Buch said 88mph looked for a certain type of person when it came to investing in entrepreneurs.
"What characterises most of them is that they are willing to give up probably a relatively well-paying job and some kind of benefit or security right now, for the opportunity to create something," he said. "They have this idea that they want to build and they are willing to go for half the salary. This is important because if you don't have that kind of mentality you're not going to make it."
Asked if any of the companies 88mph has invested in could become billion dollar entities, Buch said Apex Peak – which received investment as part of the 2013 programme – could achieve such success, but that was not a necessity for the investment fund.
"We are not just investing in companies to get a billion dollar startup, that's not the point. Even if a company gets sold for two or three million dollars, that's still a good result for us," he said.
"We will still make return if we get two or three companies sold, but nobody writes about it."
Buch said a number of 88mph startups in South Africa had obtained follow-on funding – namely Apex Peak, mydoorhandle and Zapacab, but there were still opportunities for those that have not yet seen such traction to succeed in the future.
"The timing can then become right and you can go from flattening to success. You really have to wait, maybe for years, to see," he said.
88mph – which also runs accelerator programmes in Kenya – announced in February it had partnered L5Lab to create 440, which will invest in mobile and internet startups in Nigeria, and had raised a US$1.5m fund for investing in startups for a programme scheduled to begin in September.
Echoing the belief of former Jumia Nigeria MD Tunde Kehinde, as reported by HumanIPO last month, Buch said Nigeria had its challenges, but the opportunities made dealing with these problems worthwhile.
"They have very fundamental infrastructure challenges for the startups. So we will need a lot more money to go to Nigeria compared to Cape Town, where everything is very cheap," he said.
"But you have a market that is big enough to not really concern yourself with going anywhere else."
The seven startups unveiled by 88mph in Cape Town, who will pitch to investors at a Demo Day on April 16, are appointments service diarize.me, event dating app Catch, pet food delivery service Pet Heaven, property rental marketplace Ekaya, big data and mobile commerce service Graphflow, insurance premium receipting and allocation firm Byte Money and premium ad network 8Bit.