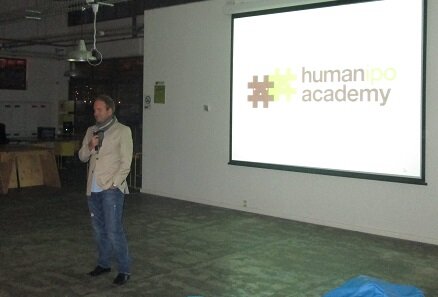 Justin Stanford, founder of 4Di Capital, speaking at HumanIPO Academy's ProChat event in Cape Town.
Justin Stanford, founder of South African venture capital fund 4Di Capital, has lamented the lack of investors in the ecosystem and emphasised the immature state of the investment scene.
Speaking at HumanIPO Academy's first ProChat event in Cape Town last night, Stanford began the story of a three-year-old "startup" which has "raised some money" but has experienced scepticism and is yet to deliver a proven business model.
"That startup is my venture capital firm – 4Di Capital," said Stanford.
Stanford was speaking after Roy Mathieu Borole, co-founder of startup Dream Mobile, discussed his experience of speaking to potential investors and venture capitalists.
"Venture capital is available and is already available," Borole said.
"There are a number of companies out there looking to invest in startups, but you need to know who you are speaking to and what they are looking for."
Responding, Stanford said: "I recently spoke to a guy from Amadeus Capital and he said the African investment situation reminds him of what Europe was like seven years ago.
"We are a very young ecosystem here."
He added: "To start with, just raising the fund is an immense challenge. In some ways it is harder than raising funds for a single business because you have got to provide your track record.
"The fact we have been able to raise money is actually quite outstanding, but we have managed to bit by bit."
Stanford explained the risks for the venture capitalist in South Africa were much higher than for those in developed markets such as the United States because there are less potential second and third round funders.
"We are often the only investor in the company so we may have to put extra money aside to carry out further rounds because there will be no-one else to take it on."