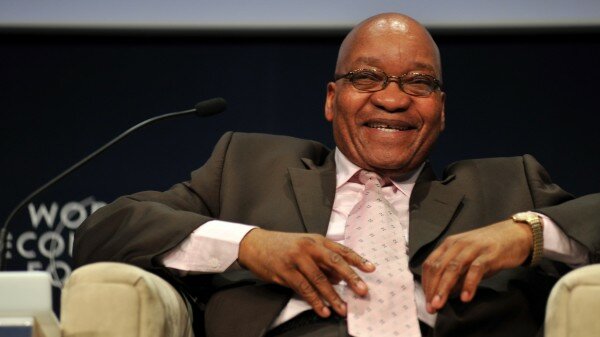 President Jacob Zuma. CC image courtesy of the World Economic Forum.
South African President Jacob Zuma signed the controversial e-tolling bill into law last week because he was "under pressure" from the South African National Roads Agency Limited (SANRAL) and African National Congress (ANC) politicians, according to a newspaper report.
HumanIPO reported last week Zuma had signed the Transport Laws and Related Matters Amendment Bill into law, paving the way for e-tolling, amid complaints from the opposition.
City Press reported yesterday two senior government officials had told the newspaper the decision to implement the bill had been taken long before the Opposition to Urban Tolling Alliance (OUTA) went to the Supreme Court of Appeal to oppose e-tolling.
One senior official involved in the interministerial committee on e-tolling said its signing into law had been a forgone conclusion.
"By embarking on another consultation, government wanted to show that it was listening to the objections on the bill. But the die was cast long ago, when (SANRAL) signed the contracts and borrowed money with government guarantees," the official told City Press.
According to the source, SANRAL's chief executive Nazir Alli had been canvassing to ensure approval for the bill when it reached parliament.
"Government has already come up with ZAR5 billion (US$5 million) from Treasury to ease the burden on motorists. The tariffs were decreased and public transport exempted. This was all owing to the public pressure. But the cost of not rolling out e-tolling would have been felt for years to come if the president did not sign it," said the official.
A second official said SANRAL's downgrading by credit ratings agency Moody's had given Zuma little choice but to sign the bill into law.
"Zuma's hands were tied. Government's hands were tied. He was under pressure from SANRAL – because it is a state entity, the government carries the risk of having other operations ­affected," said the second source.
SANRAL spokesperson Vusi Mona previously insisted to HumanIPO that e-tolling was government policy and would be implemented.
Since Zuma's decision to sign the bill, OUTA has expressed its surprise at the move, and been joined by the Democratic Alliance (DA) and the ANC Youth League in pledging continuing opposition to e-tolling.