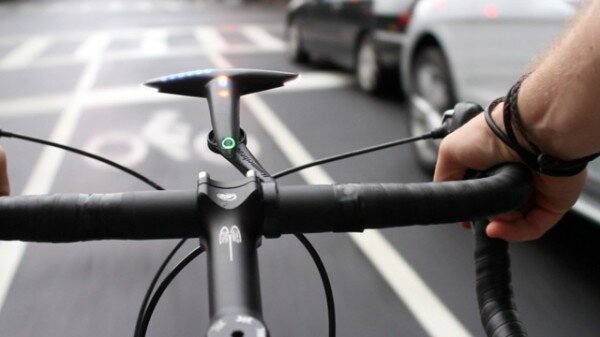 Two South African entrepreneurs, based in New York, have turned to crowdfunding to finance their bicycle navigation startup and have already raised more than US$23,000.
Pieter Morgan, a friend and former cycling teammate of 2013 Tour de France winner Chris Froome, and Laurence Wattrus are both from Johannesburg and founded Hammerhead Navigation with Indian Raveen Beemsingh last year.
Having produced a prototype, which the trio believe will allow cyclists to ride "less distracted", the team embarked on test rides which meant they were able to keep up their love of cycling while refining their product.
The Hammerhead allows riders to choose their route through their favourite app, such as MapMyRide or Strava, connect it to the device through their smartphone and then receive live turn-by-turn navigation without being distracted.
"Navigating on a bicycle is surprisingly challenging unless you ride the same route you always have," Morgan told HumanIPO.
"I thought there must be a better way to plan and follow bike routes; leveraging smartphone power was the glaring solution."
The company has posted the Hammerhead Navigation project on the Dragon Innovation crowdfunding site, which vets projects before posting them up and features hardware projects exclusively.
There have already been 275 backers of the project, with the 29 days left to hit their US$145,000 target.
"We have had very positive response from our early backers, even on this new platform (Dragon Innovation)," Wattrus said.
"We have seen that the community of cyclists can share our vision and want to bring this to life. Work this side is relentless so we want to be 100 per cent confident we can hit our goal."
If the company raises the funds they intend to use the money finalise manufacturing partnerships and begin mass production.
Concerning potential rollout markets, Wattrus added did want to target South Africa as well as developed markets.
"South Africa has a healthy and growing cycling population, its a surprisingly dense demographic of avid cyclists," Wattrus said.
"Both Piet and I grew up on many of the magnificent trails around South Africa and we want to ensure we can serve this market well. Increased smartphone penetration, especially on the iOS and Android front means that we will have a growing potential user-base."