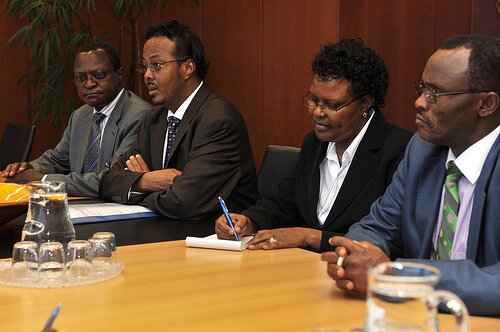 Kenya Paliamnentary comittee CC image courtesy of IAEA Imagebank on Flickr
The Kenyan government has been pressured to explain claims it willingly allowed its stake in Telkom Kenya be taken over by France Telecom without safeguarding the interest of the country.
Questions centre around how France Telecom increased its stake in Telkom Kenya, now known as Orange Kenya, to 70 per cent, diluting the government share to 30 per cent from 49 per cent at a time when the country was going through elections.
Speaking while appearing before the Public Investment Committee (PIC), National Treasury cabinet secretary Henry Rotich said the government renegotiated its stake in Telkom Kenya to 30 per cent to avoid a decline in its ownership to 13 per cent.
"After making a string of losses, it was necessary to inject capital to save Telkom Kenya from its insolvency position," said Rotich.
"We had the option of liquidating the firm or restructuring its balance sheet by converting some of the debt into equity."
He added: "The restructuring proposal was approved by cabinet on November 22, 2012, and the agreement was cleared by the Attorney General on December 20, 2012. That was before the Treasury appended its signature."
Despite the government's assertions, PIC chairman Adan Keynan demanded to know how the deal went through without the involvement of the Privatisation Commission and the Communications Commission of Kenya (CCK) as required by law.
"We would like to know which public officer(s) were responsible for entering into such a deal, why the Communication Commission of Kenya was not consulted as the law requires in this reckless, irresponsible and unpatriotic transfer of shares owned by the public." Keynan asked
Investment secretary Esther Koimett, who accompanied Rotich, said the duty to inform CCK of a restructuring should be taken by the licensee, Telkom Kenya, and not the shareholders.
Although she admitted that failure to involve the CCK was a mistake, she said the fact there was no sale of shares in the dilution process it dismissed the need to involve the Privatisation Commission.
The committee has been seeking to unravel the KSh10 billion (US$114.5 million) cash call, where France Telecom was to provide KSh5.1 billion (US$58.4 million), while the government of Kenya was to put in KSh4.9 billion (US$56 million).
The Kenyan government provided KSh2.5 billion (US$28.6 million), but failed to provide the remaining KSh2.4 billion (US$27.5 million), resulting in a dilution of its shareholding to 30 per cent from 40 per cent.