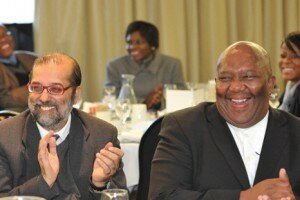 South Africa's communications minister Yunus Carrim (left). CC image courtesy of Flick.
It has truly been a terrible year at South Africa's Department of Communications (DoC). Yet another minister has gone, and until the last month of 2013 the department had achieved next to nothing in meeting its major targets. But two significant breakthroughs in the last weeks of the year may have raised hopes of a more enjoyable 2014.
Let us cover the bad news first. In July, president Jacob Zuma finally sacked controversial communications minister Dina Pule, with public protector Thuli Madonsela since declaring Pule's conduct at the DoC "unlawful" and "unethical", and the parliamentary ethics committee saying she "willfully misled" parliament and referring her to the police over her relationship with Phosane Mngqibisa, who allegedly made millions of rands from sponsorship deals through his involvement with the Cape Town ICT Indaba held last year.
Pule's successor Yunus Carrim has since said officials involved with an alleged cover-up involving Pule are being investigated by the Public Service Commission.
Aside from corruption, Pule's tenure at the DoC was also characterised by underachievement and outright failure. HumanIPO reported in September on a report by South Africa's auditor general that said the DoC missed almost 50 per cent of its targets during 2012/2013, with the Democratic Alliance's (DA) shadow minister of communications Marian Shinn claiming its findings are an indication of how Pule "grossly mismanaged" operations.
The report said 46 per cent of planned targets were not achieved, some vacancies took longer than 12 months to fill, suppliers were not paid on time, and appointments were made without proper funding being put aside or approved by the relevant stakeholders.
Central to this aura of failure around the department have been the digital migration process and the development of the country's broadband policy.
In January the DoC warned South Africa could miss the global 2015 deadline for digital migration by three years, while in July an Independent Communications Authority of South Africa (ICASA) councillor said he foresaw the country missing it by two years.
With regard to the 2020 100 per cent broadband penetration target, journalist, media analyst and commentator Arthur Goldstuck told HumanIPO earlier this year the government was only paying "lip service" to the target and would miss it badly. A Goldman Sachs report in November said technology was South Africa's biggest area of underperformance.
Carrim seemed aware of these prior failings when he took over the department – telling the broadcast industry in September to work with the government to speed up digital migration and saying in August South Africa was "lagging far, far behind" on broadband.
A new determination now seems to have brought positive results. Within the period of a few days, Carrim had announced that South Africa's digital television signal would be switched on by April 1, 2014, and had his broadband policy approved by Cabinet, gazetted and given the green light by internet experts Akamai.
So a turbulent year at the DoC ends on a positive note. Now it just remains to be seen whether Carrim and his department can put the failed Pule days behind them and carry that momentum into the new year.